Digging's Afoot!
Digging's Afoot!
an autobiographical tale
Controls:
move: arrow keys
pause: p/escape
dig/drop dirt: enter key
Objective: dig a hole. spread the dirt all over the backyard. don't get stuck. or called in for dinner!
Help
If you do get stuck in a corner between some dirt piles you press "P" to get to the pause menu & quit back to the main menu.
Game Mode Options
Enjoy the relaxed pace of an infinite summer's day in "Free Roam" mode--no score, no time limit, just the pure joy of digging a hole in the backyard just for the sake of it.
Or, if you're the more competitive sort, play game mode--there's a score, a time limit and combo bonuses!

Inspired by true events!
a game dedicated to my loving Mum & Dad :)

The story goes that when I was a kid I really liked to dig holes in the backyard.
Problem was, my uncles--when they were kids--had also really liked to dig holes in their backyard.
And, years later, their mother found out exactly how deep they dug...
...so given my Mum had learned about that family history, I had to live with a strict "stop digging a hole when you reach clay" rule! :) (Probably a mere 0.5-0.75m or so.)
And that's the story that inspired this Ludum Dare "Deeper & Deeper" themed game where you dig a hole in your backyard...
"Digging's Afoot!" is what might have happened if I'd watched more POW escape movies when I was a kid--and if I'd learned the "spread dirt dug out of a hole around the yard" trick they contained. :)
Gameplay images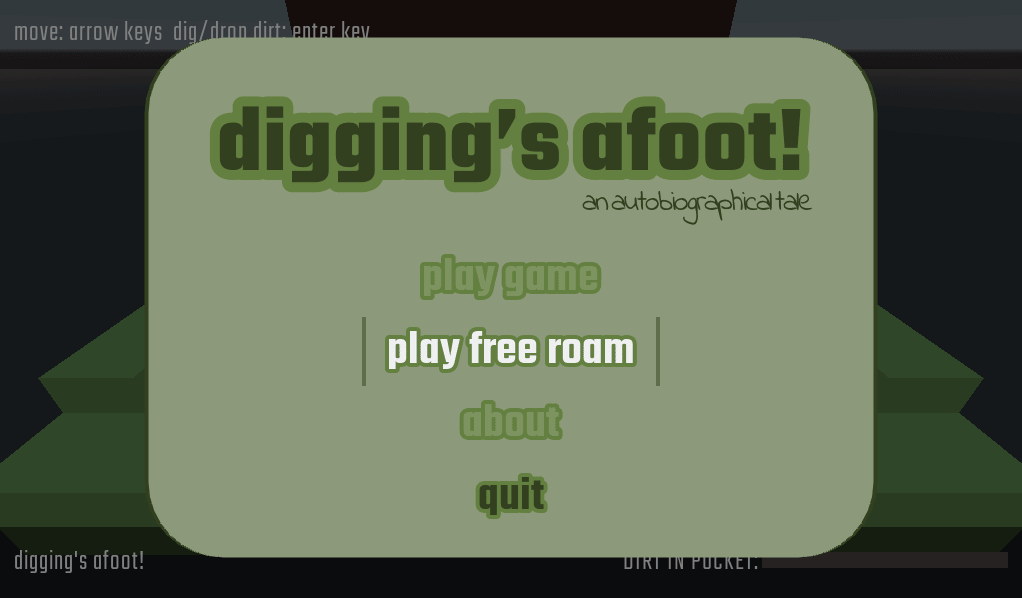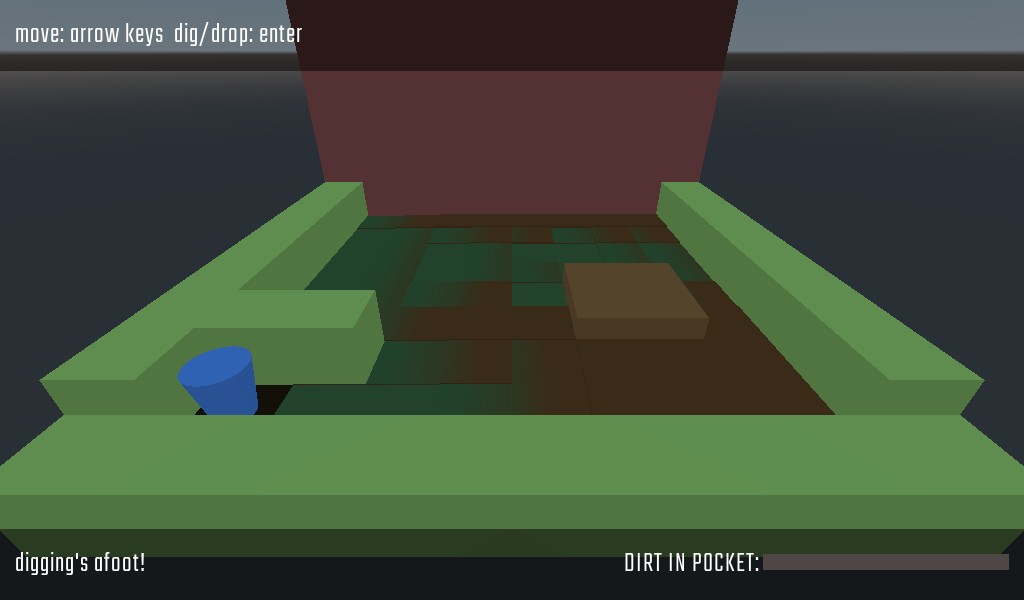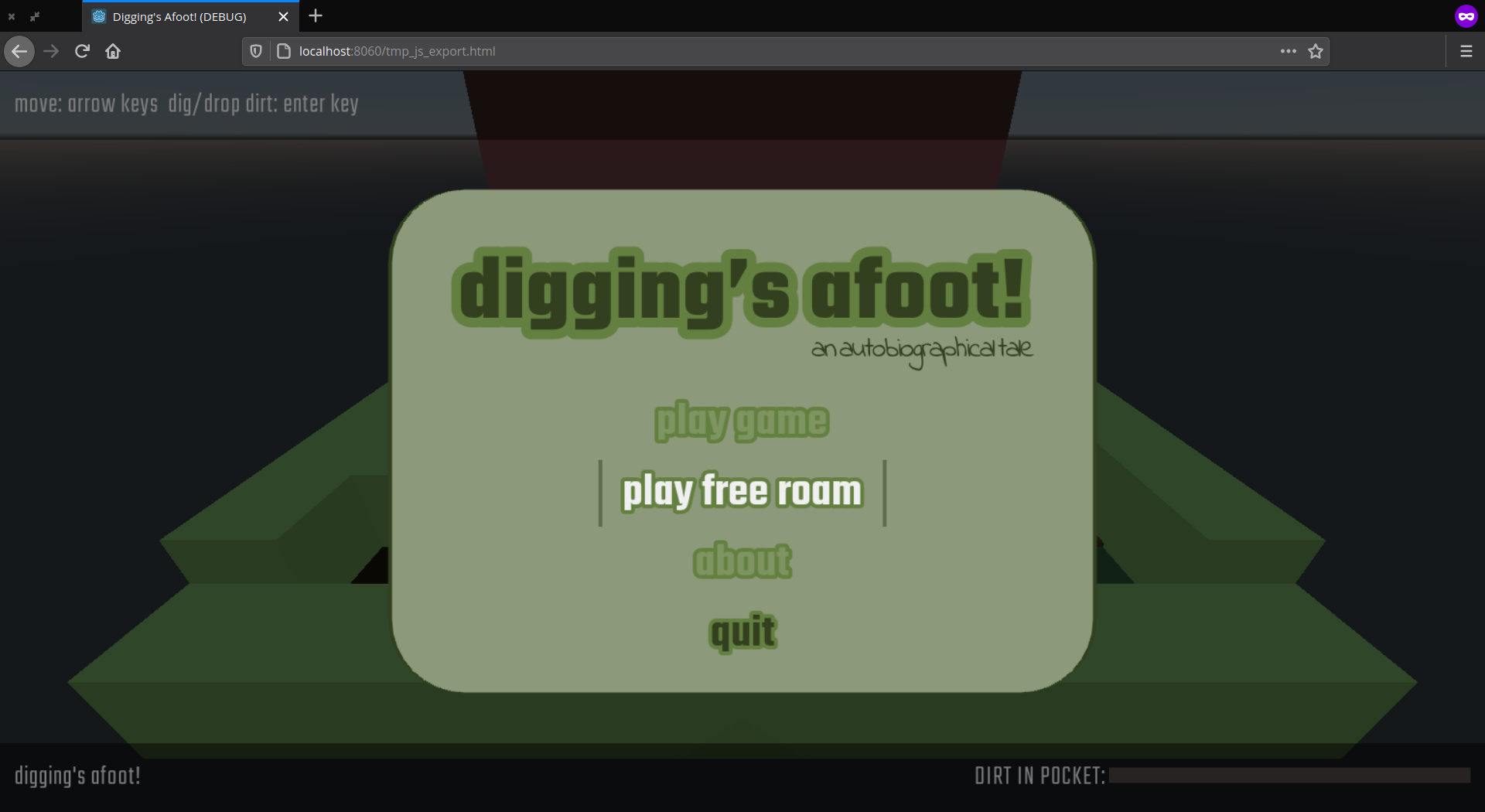 Check out the development thread on Twitter
Changelog
v0.1.0 -- Pre-compo deadline upload.
v0.2.0 -- Pre-jam deadline upload. WIP. Now includes game mode in addition to the previously existing free roam mode.
v0.2.1 -- Pre-jam deadline upload. Added pause menu with resume/quit game support.

Download
Click download now to get access to the following files:
diggings-afoot-linux-v0.2.1.tar.gz
14 MB
diggings-afoot-win64-v0.2.1.zip
13 MB
diggings-afoot-linux-v0.2.0.tar.gz
14 MB
diggings-afoot-win64-v0.2.0.zip
13 MB
diggings-afoot-linux-v0.1.0.tar.gz
14 MB
diggings-afoot-win64-v0.1.0.zip
13 MB
diggings-afoot-html5-v0.2.0.zip
4 MB
diggings-afoot-html5-v0.1.0.zip
4 MB