NPC Action News!
The TV News Studio where you're in control... of nothing!

You're the latest in a long family line of television news room vision switchers...
As a vision switcher you have the power to make the transition between title cards & cameras happen... at the direction of your producer.
Mess up and the audience might get bored with no variety; or, use an unsuitable transition and the news anchor might think you're making a mockery of the great institution of news journalism!

Can you keep your job long enough to solve the mysterious disappearance of your most famous ancestor... the greatest vision switcher of all time?!

Instructions
When the producer wants you to transition to a different title card or camera input, one of the monitor preview screens in the upper left will start flashing (A).
Locate the related input selector button in the lower left, and press/click it (B).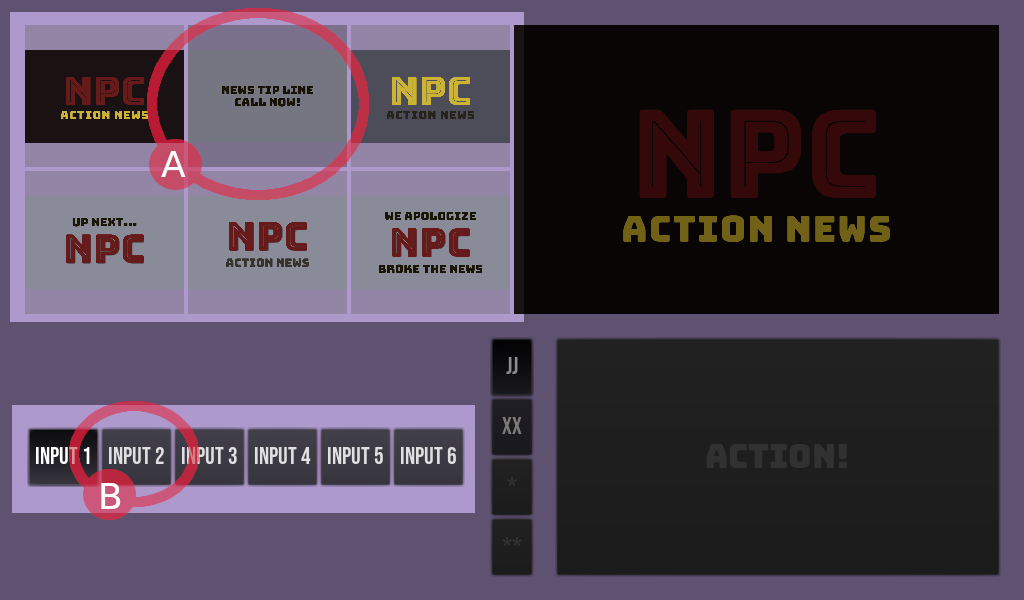 When the correct input selector is toggled on (C) the large "Action" button becomes enabled: Press it! (D).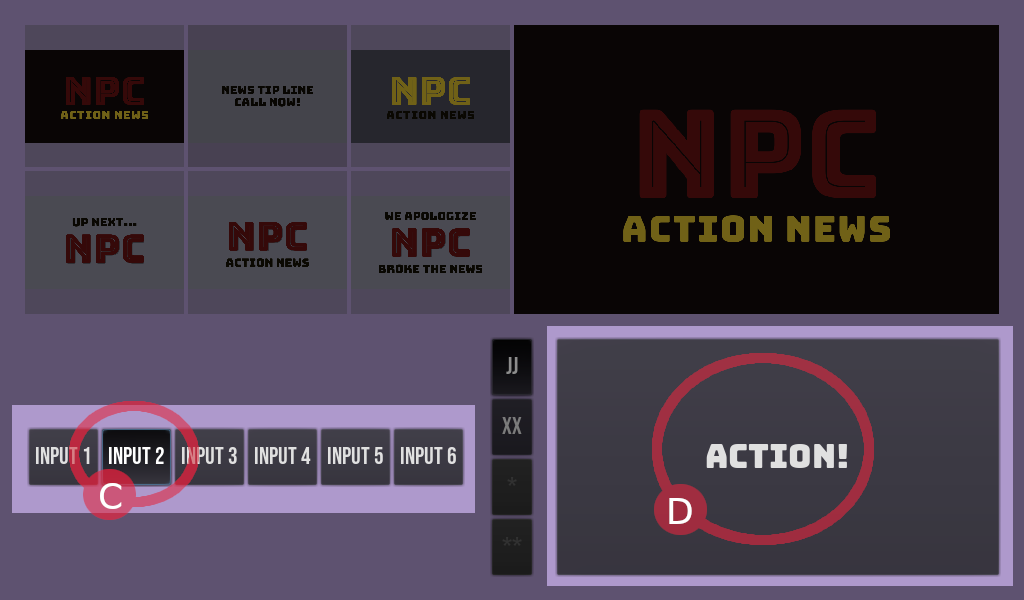 If you would like a different transition type, you can choose one, with the central column of buttons, tooltips available (E). When the transition has finished you'll see it on the output screen (F).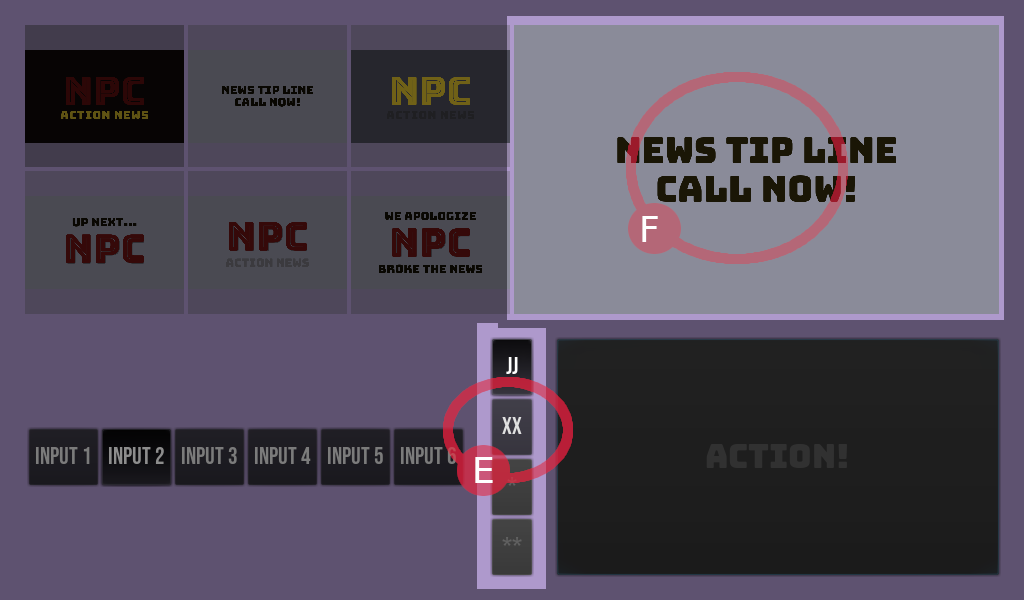 Thanks for playing!

Credits
Thanks to these projects & tools:
Game engine:
Fonts:
News Anchor Voice Overs:
Other tools:

Inkscape
Glimpse Image Editor
Git
GitLab
Changelog
Updates:
v0.1.0

First fallback/safety submission.

v0.1.1

Second fallback/safety submission, with some actual "game play".

v0.1.2

What I thought was going to be the final submission. :)
Improved randomized selection of source input.
Added & use more title card variants.
Added jump cut transition.
Added transition speed variants.
Added tool tips.

v0.1.3

Final submission before deadline.
Now shuffle order of the source inputs for variety.
Made use of extra bonus hour to add rushed voice-over by news anchors on start & also sometimes when "Action!" button is pressed.

Amazingly, I also seemed to avoid breaking anything else in the process. :D

Perhaps ironically, an opportunity to use these Text-To-Speech voices was one of the major motivations for choosing the game theme but didn't get them added until the end but glad they make at least a token appearance, cos I think they're awesome quality. :)
Other post-submission changes to this page:
Updated description.
Filled out "Instructions", "Credits" & "Changelog" sections.
Added more recent screenshot.
Removed some semi-duplicated screenshots to reduce visual clutter.
Thanks for playing!

Download
Click download now to get access to the following files:
NPC_Action_News-Linux-v0.1.3.tar.gz
16 MB
NPC_Action_News-Win64-v0.1.3.zip
15 MB
NPC_Action_News-Linux-v0.1.2.tar.gz
14 MB
NPC_Action_News-Win64-v0.1.2.zip
13 MB
NPC_Action_News-Linux-v0.1.1.tar.gz
14 MB
NPC_Action_News-Win64-v0.1.1.zip
13 MB
NPC_Action_News-Html5-v0.1.1.zip
4 MB
NPC_Action_News-Html5-v0.1.2.zip
4 MB